Daugavpils Guide
Pearl in the eastern part of Latvia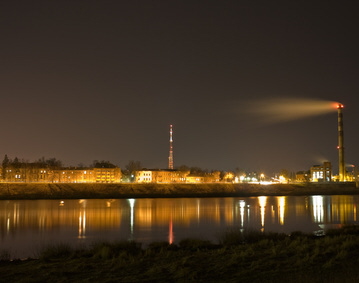 Daugavpils guide takes a look at Latvia's second largest city, with a population of 120,000. It is situated in South-Eastern part of Latvia, on the banks of the River Daugava.
Daugava is the biggest river in Latvia.
The capital Riga is around 230 km away.
Daugavpils has a mixed population with almost 60% Russians and 15% Latvians aswell as close to 10% Poles and Belarussians.
Compared to the rest of Latvia, Daugavpils enjoys a climate that is slightly different. The summers are warmer (highest 36 deg Celsius) and winters are colder (lowest -43 deg Celsius). Within the territory of the city there several beautiful lakes: Lielais Stropu, Šūņu, Gubiščes and Mazais Stropu.
The city of Daugavpils is first found in booksdating back to 1275. At that time a stone castle was built in Dinaburga, on an old trade-route, 19 km from the present city.
The town grew around the stone castle, which was damaged and rebuilt a number of times due to military activities. The town really began to develop with the military fortifications in the 1570s. But often progress was slowed down due to constant wars. From time to time the town was occupied by troops from Poland, Russia and Sweden. The construction of a fort began in 1811, later it served as a prison.
Things to see
Of the several landmarks of the city the fortress in Classicism-style is worth mentioning. It was consecrated by the Russia's tsar in 1833.
It is under supervision and preservation of the local municipality and Real Estates Agency at present, as a heritage object. The other equally fascinating thing to see is the Daugava protecting dam that stretches 6 km along the river. It reaches a height of 9 meters in some places, and protects the city from floods. It was actually built in 1841.
There are a number of monuments worth your notice in Daugavpils.
The huge, 13 metres high reinforced concrete cross standing tall in Satiksmes iela honours the Latvian soldiers who died fighting for freedom.
They are buried in the cemetery just next to the cross. A memorial stone serving as a monument to pay homage to the citizens of the city who had to go to Siberia in WWII is located at Pumpura Park.
Shopping in Daugavpils
If you are an art lover, or if you love to decorate your rooms with original works of art, you should not miss shopping at Rothko Centre in the Arsenal in Daugavpils. It features exhibition halls and ateliers for local artists and their work. Daugavpils is known to be a place of art and culture.
Ceramics and pottery work should be your next pick from Daugavpils. Ceramic and pottery shops are not uncommon to find, you will find them walking through town.