Winter vacation in Latvia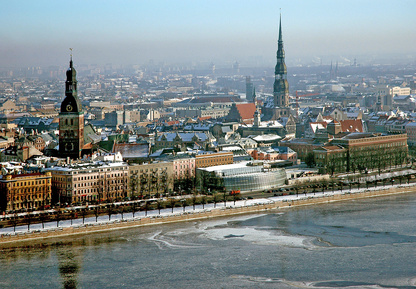 Coming to Latvia for a winter vacation can be real fun aswell. Sure you can't enjoy the beaches and have a beer or nice meal in a beautiful outside setting, but there is more.
Skiing
If you are a newbie in downhill skiing, and dream to scale down the Alps one day, Latvian hills can be your 1st milestone to attain your goal. A
winter vacation in Latvia is a good choice, as it is mostly not raining, and airfares are usually cheaper.
There are direct flights from most major cities of Europe to Latvia. The snow covered trees are a spectacular sight you should not miss and you can only see that in winter. Latvian skiing runs are comparatively short and not that stiff. For learners it is ideal. For riders who have already crossed the 'learner' mark, there are some snowboard parks that offer more adventure. A trainer (one hour), skiing equipments, and a pass allowing you to ski all day will cost around 20 Euro. Here are some of the best skiing areas of Latvia:
Sigulda
The top location when in skiing in Latvia. The longest run is 350 meters. That might not sound much for someone coming from a mountain region, but for flat country it is not bad. You will find modern facilities here.
Baili
About 100 km from Riga, Baili in Valmiera district has slopes of varied height and difficulty. Hotels and cottages are available at reasonable prices.
Gaizinkalns
This is a skiing favorite for many, slopes even have lighting. Situated 120 km from the capital Riga.
Unfortunately the there are no runs coming close to 1000 meters, if that is not what you are looking for then head somewhere else, but if you are looking for a cheap and easy skiing location then Latvia is the best choice within the Baltics.
The season begins before Christmas and ends at the end of march. All the equipment can be rented at the site.
Cross Country Skiing
You can find plenty of cross country skiing tracks in Latvia, if you want to arrange a holiday in a region with that is popular for that wintersport then head to Baili, Lejas Jozumi or Mezinieki. All of these places have over 2km long tracks.
Sledge riding
Good news for those who are not interested in downhill skiing or do not want to risk your bones just right now on hilly slopes—you can try out your skills at Livu Square, just outside the old town of Riga, or in any of the ice skating rinks. Horse pulled sledge rides are also available through the many forests, which is an unmatched experience for anyone when the weather is clear.
Christmas time
It's great time for a winter vacation. At this time of year a number of cultural events and musical shows are held in Latvia. Walk into an opera house or go Christmas shopping on cold, icy winter evenings. Riga's Christmas market is alive with many people, decorations and activities for the entire month of December. Enjoying Latvian gingerbread cookie with traditional Latvian wine, and good music, in front of burning fire after plenty of shopping from the boutiques is a welcome relaxation for tired souls.