Liepäja Guide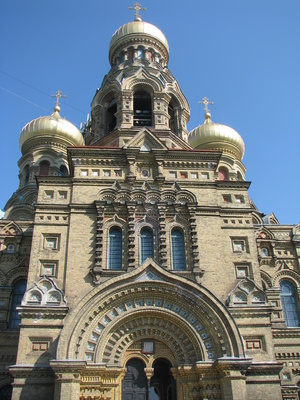 Liepaja used to be a tiny fishing village that grew to become a major port important to traders in the 17th century. Between 1890 and 1904, it served as the naval port where an entire fleet of Russian submarine was docked.
Today with a population of almost 90,000, Liepaja is the 3rd largest city of Latvia. The main industries on which the population of the city depend are: ship building, metal production, textile, paper and food. It is known for the production of delicate and best quality lingerie. Industry flourishes due to low tax imposed by the local government, besides the port being free from ice throught the year.
The port also has the advantage of being accessed by both the Western and Eastern countries. Liepaja has witnessed a lot of historical events since it began as a fishing village, long ago. The local administration is active in the task of developing the city.
Attractions in Liepäja
The main attractions of Liepaja today is undoubtedly—Karosta, the former military base from Tsarist and Soviet time, awesome architecture, lovely beach and the Holy Trinity Church organ (with 141 stops and 7000 pipes). You can't afford to skip Karosta on your trip. It has a lot to to offer, like the Cathedral, the Officer's Palace, the Riding Manege and the Fortifications.
The city is rightly called the 'cradle of music and art' since art galleries are commonplace, and even standard restaurants employ musicians to entertain their guests.
Almost all hotels and guesthouses have newly renovated interior designs and rooms are clean - in short: a pleasure to stay.
Some of the major events that you may enjoy at Liepaja are live rock music festivals and the yearly Kurzeme international rally (in mid July). On a relaxed evening you can drop in at the Liepaja Symphony Orchestra and enjoy a show there.
Shopping in Liepaja
In the city of Liepaja, Peter's Market is your destination for all types of food (cooked and raw), the best flowers, souvenir items and also antiques, everything can be found under the same roof. If you want to buy items made from wool like sweaters, blankets, socks, gloves, jackets and also souvenir items, you can turn to Rožu Laukums 5/6, open from 10AM to 7PM.
Saules Salons can be your ideal destination for local handiwork, ceramics and also jewelry.